At Book Printing UK, we don't want our service to end when your books are delivered. We feel you deserve better than that, and that's why we are changing. As a print company, the books fly off our press non-stop and we don't often shout about it. Well today that all changes! From now on, each month will have two showcases all about our customers, their amazing projects and how they are now sharing their stories with the world. We're starting with the Look Cook Book!
What is a Customer Showcase? Well, that's simple. It's us, showcasing the work of one or more of our customers, making it easier for them to share their story!
The Look Cook Book
As seen above, we have the Look Cook Book by Kieran McNally. We print a lot of cook books but not many quite like this (in fact, none like this). As you can see, its looks alone are quite unique when compared to other cook books. And as you can tell, it looks right at home in our 'home', surrounded by some of the ingredients used inside! The colour and the quality of this book are what caught our eye from the get go and we couldn't wait to show it off. The addition of hardback covers really improve the quality, in other words, it feels amazing in your hands.
That being said, the main reasons for highlighting this book aren't the colours or the quality... it's the pages inside!
Recipes that change the way you cook!
When you open the book, you'll notice one thing right away and that is, there's no written instructions! You might be thinking "that's silly, a cook book with no text can't possibly work". Well let me tell you that it does, and it's a game changer.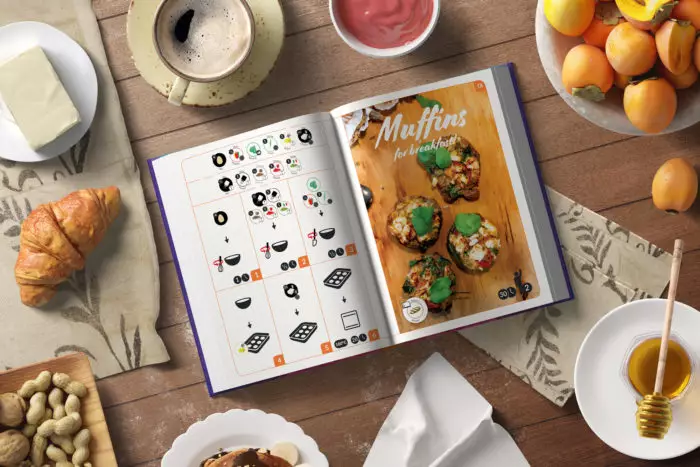 As you can see, I wasn't lying, there are no written instructions, just the names of the ingredients once. With the idea of cooking at a glance, you get all the information you need from a few simple symbols, helping you to cook cheap but delicious food easily.
Are you ready to bring you print project to life? Why not take a look at our Recipe Book page for more information.
Or start with a free online quote from us!